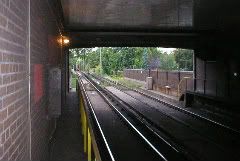 Jason Paris unleashed a firestorm in raising the now-decades old DRL theme for discussion here, and among other comments was the issue of subway alignment, as there are now several to evaluate for the DRL. So what influences alignment for new subways to be constructed?
Historically, while alignments would generally follow streets, as often as possible they tried to avoid going directly under the street, as service relocations and temporary decking for existing streetcar services, not to mention road replacement when the decking was removed, were huge hassles that came at great cost.  Expropriating properties was far cheaper, easier, and timely.  This was why the Yonge subway was not built beneath Yonge between Alexander (just north of College) and, I believe, Orchard View (just north of Eglinton), except for the part where it crosses to the other side of Yonge around Glen Elm (just north of St. Clair).  Apart from the portion between Church and Sherbourne bored directly beneath Bloor St., the Prince Edward Viaduct, and Sherbourne station, the Bloor-Danforth subway was kept entirely north of Bloor and Danforth proper (excluding the extension to Kipling).
However, attitudes of both property owners and those of and towards labourers changed, which in turn impacted what subway construction methods became acceptable.